Emotional Intelligence as a route to ED&I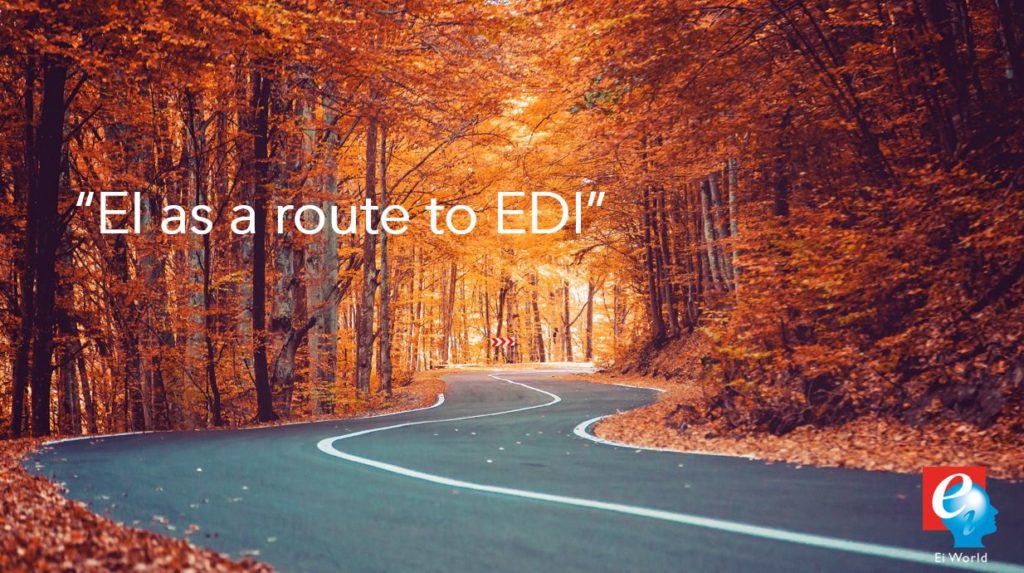 Systemic approach to EI and EDI
For: EDI Change Agents, HR Professionals and Leadership Teams
You may be wondering how to take your EDI focus to the next level, maybe you have realised that well-intentioned initiatives don't always have the impact you desire?
Or maybe the pandemic context has intensified the challenges you face in EDI?
Maybe you have become aware of the depth of Mental Health issues in the pandemic context today? And the issues in teams? (75% of Cross-Functional teams are Dysfunctional)
You may be at the point where you recognise that something significant needs to change, to put your organisation onto a healthier and more sustainable way of functioning?
At Ei World we believe that a comprehensive approach is needed to tackle systemically the problems in organisations today.
Imagine a working context where everyone can be at their best.
A culture which enables diversity, inclusion and equity to be the natural way of operating. Everyone is supported to be at their best, including line managers who are aware and confident in having the right conversations in the workplace to understand difference and enable true dialogue that results in everyone being able to bring their full selves to deliver outstanding work.
Why EI?
Emotions trigger reactions to difference – no-one is neutral in the face of difference. Rare is the person who can be non-reactive in the face of differences. Other people can trigger excitement, interest and even fascination to get to know them more. On the other hand, differences in other people can trigger strong emotions in us including irritation, stimulating, annoyance, frustration and fear.
We know that Emotional Intelligence is hugely important. Years of research has shown that Emotional Intelligence is a critical factor that enables us to deal with differences, the ability to understand and influence one's own emotions and the emotions of others. This ability separates exceptional leaders and managers from the rest. It has been named as a critical skill for the future, irreplaceable by Artificial Intelligence (AI).
We also know that Emotional Resilience and the ability of individuals to make the right choices to cope with stress and pressure is learnable. This starts with a process of understanding your own inner landscape which determines your responses to the emotional context of life and work.
How we manage behaviour, socially interact and make important decisions is all heavily influenced by what happens in teams. Research shows that having the right norms in a team, will lead to psychological safety, a strong team identity and constructive dialogue. Together, these help to increase the level of belonging. When this does not occur, we have problems in the workplace including mental health issues, high absence rates, fatigue, burnout and underperformance in teams.
Start the journey for your organisation here......
Ei World has developed a clear pathway beginning with understanding your own functioning in your inner emotional world, working on mental health strategies, then bringing that understanding into the heart of a team. By upskilling line managers and HR professionals in this systemic approach, this can be implemented widely across any organisation.
YOU / LINE MANAGERS
Expand Self-Awareness and engage dialogue to identify the core of how EI is used to handle everyday challenges and context. Know your Inner EI Landscape as a starting point to understand the diversity of emotions.
PRIORITY TEAMS
Assess Team Functioning and engage dialogue on team behaviours that are known to cultivate harmonious and productive teamworking. Build the norms of psychological safety in teams.
ALL STAFF & LINE MANAGERS
Mental Health – Addressed by "Emotional First Aid"
Structured Learning on topics that affect mental health.
Cultivate relevant everyday strategies. Listen to and understanding collective issues in mental health.
LINE MANAGERS | EDI & HR
Equip line managers and EDI & HR Professionals to facilitate self-awareness for individuals - Emotional Resilience Awareness Survey Accreditation
LINE MANAGERS | EDI & HR
Equip line managers and EDI & HR Professionals to facilitate high functioning teams - Make an impact with our Team EI Survey Accreditation
Holistic Upskilling for Change Agents to bring EI more central into EDI Agendas