Make this week the week you concentrate on the small things.
Small things at work can make a big difference to our day. In Dr Geetu Bharwaney's book, Emotional Resilience, she describes some small ways you can make a difference to your colleague's day.
Her suggestions are:
Simply ask 'Is everything ok?' when you see a colleague looking mad, sad or bad!
Do what is right by the people in the situation, not what is easiest.
Recognise people's efforts for something they did well.
Say thank you.
Show care to your visitors by welcoming them and providing them with what they need, such as water, tea or a snack.
Do kind things for no reason at all. You could buy someone lunch or a coffee. You could bring some fresh fruit into work to share, you could bring flowers for your work area. You could offer to help someone who you can see is struggling with a deadline or who is overloaded.
If a colleague is going through a difficult time, whether personal or work-related, show you care by offering a helping hand or a sympathetic ear.
For difficult colleagues, show concern and try to be understanding as they may be struggling with deeper issues that you are not aware of. Try and see the bigger picture and view things from other's perspectives.
Accept that we are all changing all the time and that we are all making mistakes all the time!
Do not tolerate rudeness, disrespect or discourtesy from another team member or from others. Aim to gain a better understanding and remember that caring between team members makes work life much better and richer for everyone.
Draw in quieter members in a team during meetings if you notice they have not said anything. In times of conflict, make a concerted effort to engage these colleagues more rather than leave them out in the cold. Work towards developing a process that enables everyone to hear each other and understand what is going on in their work and what the issues are.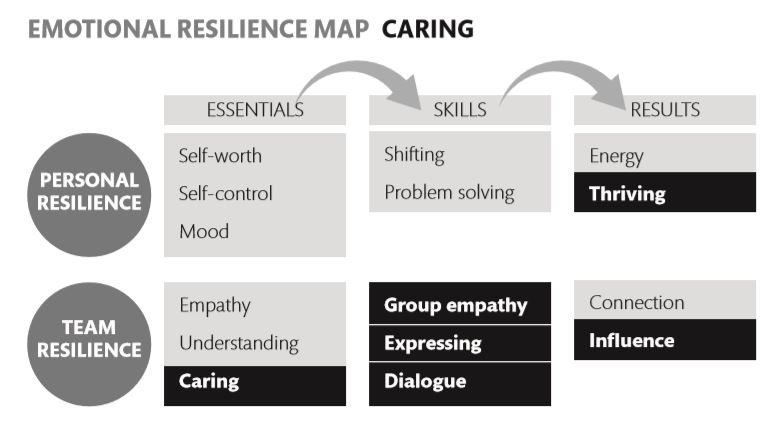 Starting with the small things will show you care, and caring is one of the behaviours that indicates an outstanding versus a mediocre team. Teams improve their performance by 25 percent when they work on emotional intelligence (Druskat and Wolff 2015, Team Emotional Competency Theory). Caring behaviours form an important part of individual and team emotional intelligence. If you would like to explore emotional resilience in more depth for you and your team, explore how we can help via our website www.ei-world.org.