Accreditation - Resilience

What is emotional resilience?
Emotional resilience is the ability to adapt to stressful situations or crises. Resilient people are able to respond to changes and adversities with less difficulties. People with less emotional resilience, on the other hand, have a harder time dealing with and coping with stress and life demands.
Why is emotional resilience important to you?
In a world that is rapidly and radically changing at the fastest of rates, the ability to respond and adapt to these shifts could not be more valuable, both on a personal and a professional level. While we cannot avoid the current pressures and stress, both in life and at work, by developing our emotional resilience we can adapt to the most adverse situations and still strive to move forward and achieve our goals. 
By being more resilient we can get the best out of the circumstances we find ourselves in, no matter how challenging they may feel. Emotional resilience gives you the ability to successfully manage and control your emotions, thoughts and actions so we can handle any demands with positivity and confidence.
How do we help?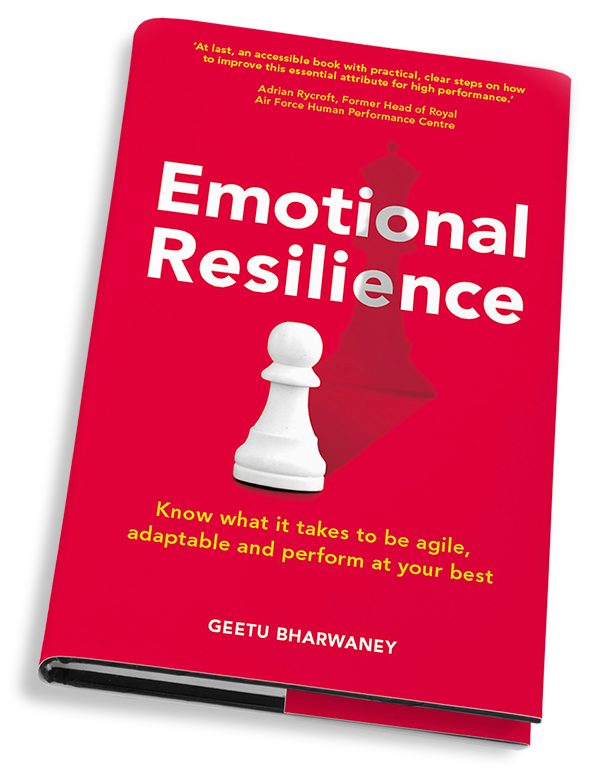 Emotional Resilience: Know how to be Agile, Adaptable and Perform at your Best (Pearson Education, July 2015) by Geetu Bharwaney, Director of Ei World is the result of 25 years of development and 16 years of direct work in the field of emotional intelligence.
This book is the first definitive, comprehensive and practical guide that deeply explores the subject of emotional resilience. Providing constructive and logical ways to enable us to develop our own emotional resilience, it recognises and understands the diversity of emotions that we experience every day.
By following the framework and exercises presented in the book, you can identify and develop your emotional resilience so you can perform at your best and realise your full potential in life and at work.
In the book, you will find a structure for pinpointing and making sense of a range and degree of everyday emotions that will enable you to become aware of not only of your own emotions but also of those of the people around you. Through learning about emotional resilience and mastering it, you will be able to perform at your best. This book will help you build your personal and team emotional resilience so that you can set yourself up for success.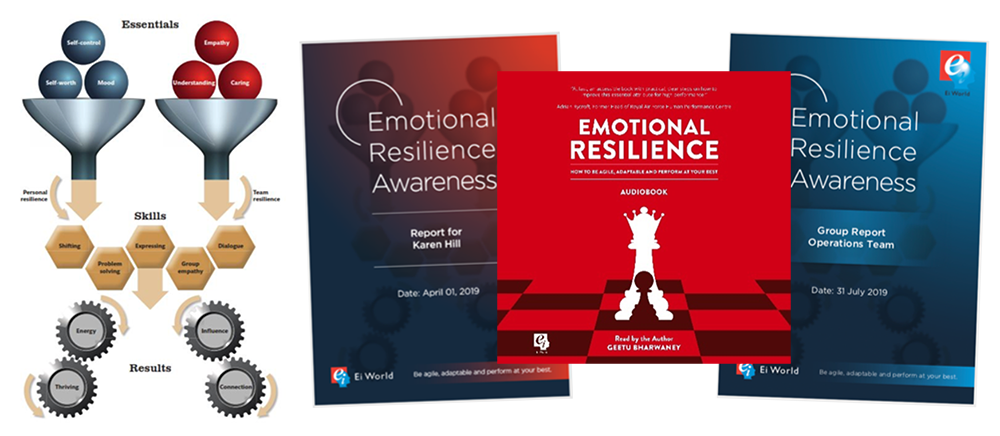 Enquire about our Accreditation program
for organisational teams of 6 people in Emotional Resilience Awareness Survey:
Contact us to explore this further, alongside our STARS app technology to build emotional resilience at scale.
Co-leaders of the programme are:
"The ERA training gave me a strong understanding of the Emotional Resilience model and survey, with clarity on how to have a productive and valuable debrief that best serves my coachees. I find myself applying insights from the training in everyday challenges at work and at home. The ERA has become a regular part of my toolkit because it directs me to the heart of what will support my clients as they identify the shifts they can make to perform at their best, yes, but also to thrive in their professional and personal relationships, and overall day-to-day lives. We talk a lot in coaching about the "being" elements of leading, over the "doing" elements of leading; this tool shines a light on the being element, while also highlighting tangible actions and behaviors that put the "being" into the "doing".
"Thanks for an awesome 'Co-learning' experience! The content was rich yet highly focussed. Facilitators complemented each other very well. Real-time updates in the 'Chat-Box' and detailed emails pre/post each session were very helpful. Members of the Support Team were very helpful. Last, but not least, we had a well-balanced cohort of participants."
"The debrief provided a good opportunity to understand different aspects of my emotional reactions to the work environment and what adjustments and strategies can be deployed to improve workplace effectiveness."