Emotional Resilience Book
What is emotional resilience?
Emotional resilience is the ability to adapt to stressful situations or crises. Resilient people are able to respond to changes and adversities with less difficulties. People with less emotional resilience, on the other hand, have a harder time dealing with and coping with stress and life demands.
Why is emotional resilience important to you?
In a world that is rapidly and radically changing at the fastest of rates, the ability to respond and adapt to these shifts could not be more valuable, both on a personal and a professional level. While we cannot avoid the current pressures and stress, both in life and at work, by developing our emotional resilience we can adapt to the most adverse situations and still strive to move forward and achieve our goals.
By being more resilient we can get the best out of the circumstances we find ourselves in, no matter how challenging they may feel. Emotional resilience gives you the ability to successfully manage and control your emotions, thoughts and actions so we can handle any demands with positivity and confidence.
How do we help?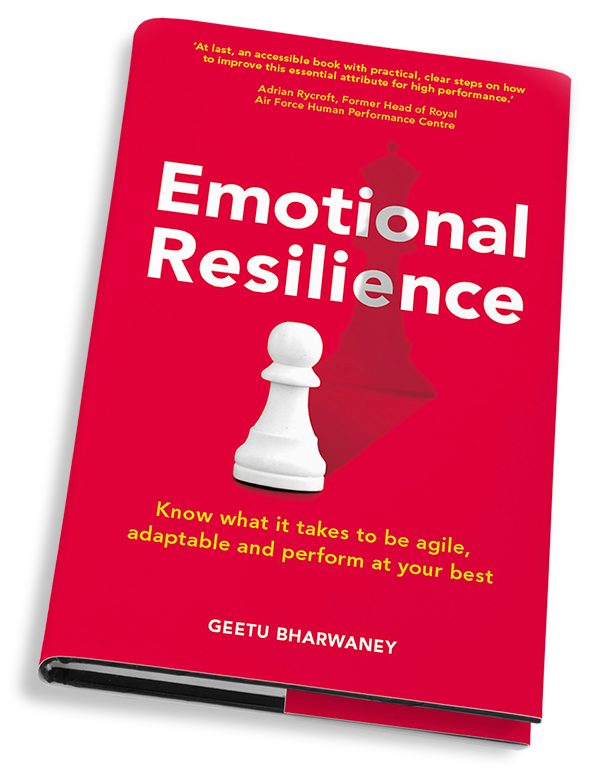 Emotional Resilience: Know how to be Agile, Adaptable and Perform at your Best (Pearson Education, July 2015) by Geetu Bharwaney, Director of Ei World is the result of 25 years of development and 16 years of direct work in the field of emotional intelligence.
This book is the first definitive, comprehensive and practical guide that deeply explores the subject of emotional resilience. Providing constructive and logical ways to enable us to develop our own emotional resilience, it recognises and understands the diversity of emotions that we experience every day.
By following the framework and exercises presented in the book, you can identify and develop your emotional resilience so you can perform at your best and realise your full potential in life and at work.
In the book, you will find a structure for pinpointing and making sense of a range and degree of everyday emotions that will enable you to become aware of not only of your own emotions but also of those of the people around you. Through learning about emotional resilience and mastering it, you will be able to perform at your best. This book will help you build your personal and team emotional resilience so that you can set yourself up for success.






Digital Transformation Requires Human Transformation



A recent keynote from author, Geetu Bharwaney. In it she shares her own journey as a coach and what she sees as important for human development today
Accreditation program in Emotional Resilience Awareness Survey:
October 2nd and 9th, 2020 (2-part program at 1pm-5pm UK /8am-12pm Eastern each day)
Accreditation program in Team Emotional Intelligence Survey:
September 18 and 25, 2020 (2-part program at 1pm-5pm UK /8am-12pm Eastern each day)