Team Performance Essentials (TPE) Model
Team Emotional Intelligence (Team EI) is defined as a team culture that builds a productive social and emotional environment (i.e. social capital) that leads to constructive interactions, collaborative work processes and team effectiveness.
Team Performance Essentials crystallises more than 25yrs of applied research and scientific validation into a working model with 3 dimensions of value creation for a team…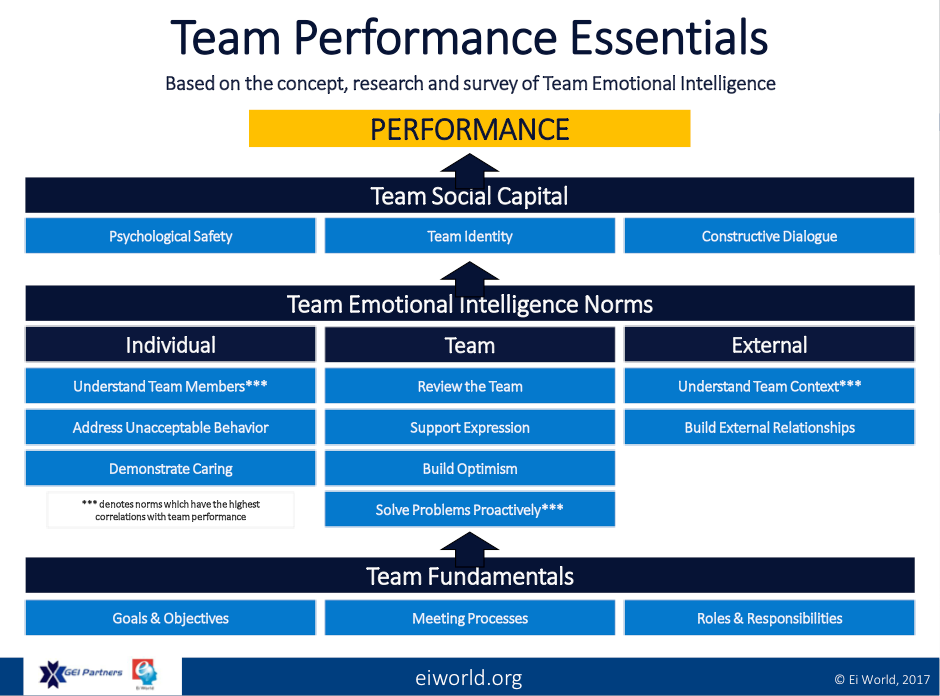 Team Fundamentals
These facets are the basic operating processes of the team, without which, the team struggles to achieve even average performance (these actions and processes are based on 6 decades of team performance research). Team Ei Norms are built upon these foundation stones.
Team Ei Norms
A team Ei culture is created by a set of 9 norms. Team Ei differs from individual emotional intelligence, which focusses on individual behaviour. Team Ei focusses on the team as a system and specifically, on the team norms that affect behaviour in a team.
The 9 team norms are divided into three levels of interaction operating in any team: –
Interactions among team members
Interactions among the team unit
Interactions with stakeholders outside the team
Team Social Capital
Operating with Team Ei Norms produces Team Social Capital, relational conditions that support team members trust and engagement in the team. This is necessary for achieving high levels of collaboration and performance; yet it cannot be commanded or required of a team. It emerges from team members relationships and interactions, which are shaped by Team Norms.
With increased awareness of the Team Ei Norms, every time the team meets and works together, it develops and evolves its Culture, Relationships, Identity and Team Social Capital, in alignment with Business Improvement Strategies, Company Values and Leadership Competencies.